Mason Formwork Type Floating Floor System basically consists of Low Dynamic Stiffness (LDS) Rubber isolators, plywood panel, polyethylene sheeting, reinforcement, concrete block, and isolation board. The LDS Rubber isolator consists of various sizes with different capacity and deflection. Cement perimeter isolation board which made of PVC foam with asphalt face around all walls, columns, curbs, etc. Floor drain can be installed where necessary.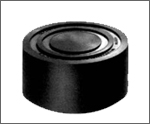 EAFM

Installation method: The LDS Rubber isolators are evenly placed on the structural floor. The isolators are then covered by 1/2" (12 mm) thick plywood or corrugated steel sheet followed by a 0.15 mm polyethylene sheeting and reinforcement. The concrete is poured onto the surface prepared as above and wait for curing. Caulk all perimeter isolation board with acoustical caulking made of synthetic rubber.

The concrete slab isolated from and supported above the waterproofed structural slab by resilient LDS Rubber isolators forms an air gap between the floating floor and structural floor acts as isolator which helps to effectively eliminate vibration, sound and impact.